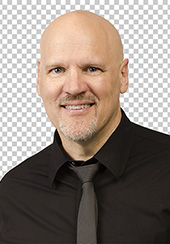 Dave Cross
Photoshop Efficiency and Creativity
In this course Dave Cross will show practical Photoshop techniques that can be used every day to be more efficient, more accurate, and to give your creativity a boost. Most of all you'll see how to spend less time in Photoshop and more time shooting! We'll also talk about how to use Photoshop to differentiate you from other photographers. Dave will lead students through several real-world examples and students will have plenty of time for discussion and questions.
Topics will include:
Photoshop "best practices"
Customizing Photoshop to look and operate the way you want
Creating and using Workspaces
Layer Comps, Adjustment Layer Presets, and Tool Presets
Taking advantage of the not-so-obvious speed enhancers
Using non-destructive methods to create reusable effects and increase your creativity
How to use Smart Objects and Smart Filters to save you time
Bio: For over 25 years Dave Cross has been helping photographers and creative professionals get the most out of their Adobe software. Since1987, Dave has taught Photoshop, Illustrator and InDesign to thousands of users around the world. He has a Bachelor of Education, is an Adobe Certified Instructor and is a Certified Technical Trainer. Dave has taught for Adobe, at Photoshop World, the Texas School of Photography, the Santa Fe Workshops, Imaging USA and at numerous corporate locations. Dave has written many articles and multiple books, co-hosted Photoshop User TV and has appeared in many DVDs and online courses for Kelby Training, Creative Live and Photoshop Cafe. He offers online training at online.davecrossworkshops.com and runs a "boutique" stock photography site for compositing, compositingstock.com.
Dave has taught Photoshop in every state in the United States, throughout Canada and in Europe, consistently earning rave reviews. Dave is well-known for his engaging style, his humor and his ability to make complex topics easy to understand. In 2009 Dave was inducted into the Photoshop Hall of Fame.